Repairing Your Leather
"Leather is repairable" was and is our first selling point. Most service companies today can sew a seam closed or even repair a scrape or scratch in leather. The propblem comes in when they try to match the color. Another problem is fixing a cut through the leather or a hole(puncture) and then make the repair disappear to the casual eye by matching the color. Repair compounds that will not shrink or fail during the life of the leather and the expertise to match color are the hallmarks of our repair services. We custom match the color in the home so that our repairs will always look feel like the rest of the leather. The Leather Solution & Total Leather Care Companies have the exclusive use of these repair compounds and color matching techniques. We make all of our own colors and clear coatings with an assortment of sheen and feel to match all the different leather finishes that are on the market today. We have done so since the early 1980's. Our name for quality service is well known in the furniture industry.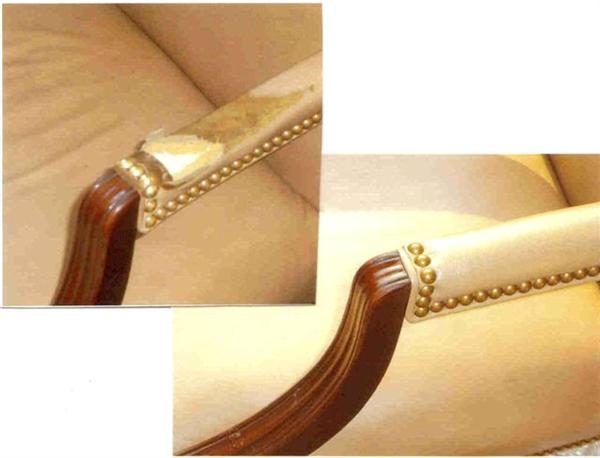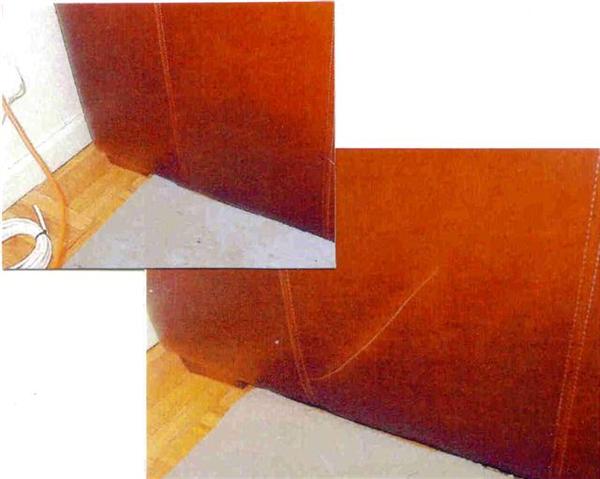 Repaired cat scratches and recolored to new color scheme: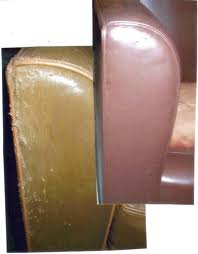 Testimonials
I spoke to the Designer this morning. She was extremely impressed with the professionalism of your serviceman as well as the repair done to the (Barcelona) chair.They could not detect anything. Thank you again for the service provided. Your company is now in my list of contacts. K.R. Corporate Investigator NY
As we come to the end of another year I look back at all the leather deliveries that would have been cancelled if not for your company. From cuts, scrapes,tears,pock marks,insect bites and scars no job was too big or too small. Your support to our sales people and our customers rates a perfect 10. Thanks again. E. DeB Retail Sales Director of Operations NY
Thank you for the excellent services you rendered yesyerday at our showroom where we accidently damaged two sectionals in re-arranging our showroom. Besides the fast and courteous service we received, the pieces were repaired as if you people were magicians. I also want you to know that 99% of the customers you serviced for us have been completely satisfied. I think that is something you should be proud of. S.E Owner Furniture Showrooms.
Thanks for the terrific job on our(oil stained)dining room chair! I couldn't be happier. ML NYC.
Thank you for the Tip ( See Leather Tips. Stain Removing Tips) about removing oil stains from leather. I found an oil stain on my leather hat, used your corn starch suggestion plus rubbing, and the stain came out. I'm delighted and grateful to you. KC Auburn WA
Thank you! Have a brand new leather walletI am infatuated withand gotfood oil on it, corn starch trick got it all outcompletely, so thanks very much for the tip.S.B. Alexandria Va.
thanks so much for your help,Donald says the chairs look great. HF Interior Design NY
Great job on the repairs. Thank you. I used the conditioner(Hideys Beauty Treatmant) wow, what a difference.You guys are great. My (leather) never looked better.FR Designer Fresno CA
Thank you so much for giving me directions on removing oil stains from my brand new BMW leather seat. A passenger left massaging oil on my rear seat. You really saved the day.Mrs.pb